Section Championship Preview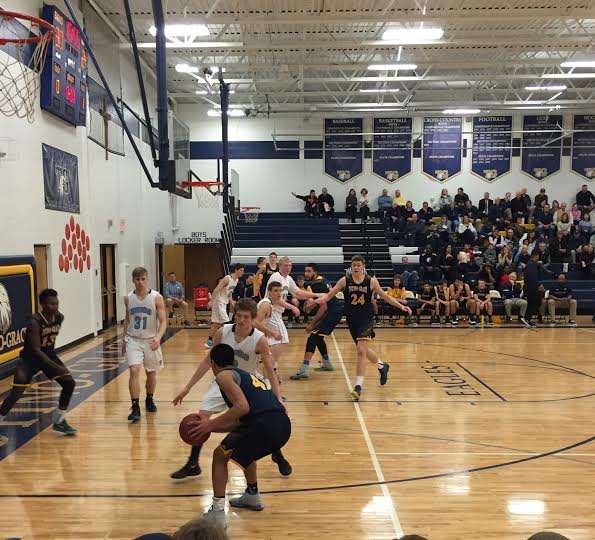 Jacob Elwell, Contributor
March 3, 2016
The Eagles take on the Fridley Tigers tonight at St. Paul Washington Technology Magnet. The winner of this game will go to state, and Totino-Grace thinks they have what it takes to come out on top.
Coming off of a disappointing loss to Columbia Heights in the first round of sections last year, Totino-Grace is ready flip the page and move forward as a team and get to state. After defeating 5th seeded St. Anthony and 8th seeded Hill Murray, the 4th seeded Eagles take on the 6th seeded Tigers. Fridley is no pushover, however, as they have taken down the 3rd seeded Columbia Heights and 2nd seeded St. Paul Johnson.
"They shoot the ball well and have a good post player who alters shots around the rim. They also will play many different defenses to try and get you off your game," said Zachary Ban, varsity Totino-Grace basketball player.
Eagles coach, Robert Ware, has worked hard all season to get players on track with their game, and has made constant efforts to make everyone the best they can be. "Coach Ware has what it takes to lead us to state. It is something that hasn't been done in a while, but I think we have a good chance," said Ban. Ware is in his first season with the Eagles, progressing them to the section championship game in the process.
Totino-Grace feels the need start off games with intensity to get an early lead and play strong defense in order to be successful in their game. The team gets along very well and needs to continue that in order to come out on top. "I think the team chemistry has been really good this year. We are all for the most part good friends with each other which helps us on the court," said Ban.
Come support your Eagles tonight at 7 p.m. at St. Paul Washington High School.