Another Totino-Grace Wrestling Team State Appearance in 2023?
A history of wrestling success
Totino-Grace's wrestling state appearance seniors graduated. Will that impact them in making to state once again in 2023? Totino-Grace won their section match against Kennedy High School 66-16. They were undefeated in their section 5A, led by their senior captains, Michael Loger and Charles Baker.
Totino-Grace took countless wins during the regular season. The Eagles blew out many opponents. Their conference is simply a little too easy for them.
Totino-Grace has 19 Section wins in total. Their fierceness makes them such a strong team to face. They have been ranked #1 in their section for a couple of years. For all of them, Doug Sivhel was the head coach.
Sivhel, commenting on if they were going to make it back to state without their previous leaders, said "I believe in my team, we are strong and it won't be easy but with the way, I run practice we will make another appearance".
He later stated, "My team is capable of doing anything. They are a talented group of individuals and on top of that, they all have such a strong bond that they all lift each other up when one falls." Svihel has high hopes of taking his team back to state.
Svihel is a great role model for the team. He pushes the team to their limit and is such an inspiring person for the wrestlers. "Even though practices are really deadly and tiring, it's all worth it, in the end, knowing that our coach is really trying his best to teach us," said one of the wrestlers.
The wrestling practices consist of a warm-up to start off, followed by a stance of motion which usually goes for three periods of two minutes. Right after, they practice certain moves that Svihel believes are the key to Totino-Grace's success.
Once they have finished going over different moves for each person's body type, they go straight into live wrestling. The team goes live for about 30 minutes with intervals of two minutes. To end the practices, the team does many sprints. In total, 10 without holding anything back. If they were to the coaching staff makes them do it all over again.
Most of the team has incredible strength, which is due to their lifting almost every day after practices and sprints. Wrestlers have the option to stay longer after to keep going over moves and perfecting them. Most of the team stays in order to become the best.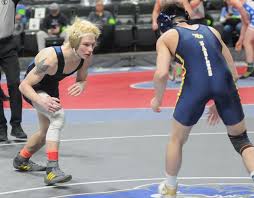 Will all this transition into the next season? Well, we can almost guarantee it since they have such a strong bond that they all pick each other up. Even though wrestling is a single-person sport, Totino-Grace finds a way to make it so much more. Last season, they all dyed their hair as a team for the state tournament.
Wrestling is truly important to all these individuals.
The Totino-Grace wrestling team has so many leaders still on their team including, Ethan Sylvester, Austin Herbst, Cy Kruse, and Sean O'Brien. Totino-Grace is in a great position based on what the team stated.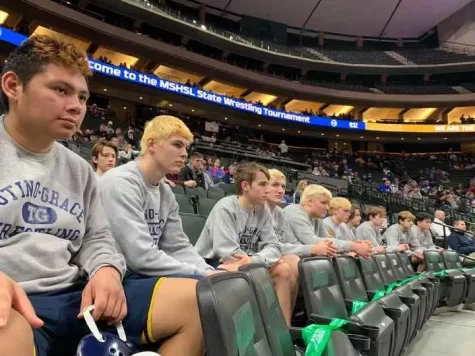 As a team, they all believe in making it to state, and the team has a great mindset. The TG wrestling team is confident in making it back in 2023. All that's left to see is how far are they going to go this year.