For the small TG Football program, it is more than just football
How do they keep up with schools three times their size?
With nine Minnesota State Championships and having moved up two divisions, the Totino-Grace High School Football program is undeniably powerful. But, the past few seasons have been difficult with a record of 2-6 in 2018 and 1-8 in 2021. This average 60-player team must keep up with their 90-player competitors. So is this dynamic the best fit for the Eagles?
For the Totino-Grace football team, it's more than just a game. Their mission statement states that the team's motto has always been prioritizing "Faith, Family, School, Football," in that order.
Head TG Football coach Jay Anderson commented that "football is just a game. But there are many things that are more important to their development than a game."
The Eagles emphasize a brotherhood and building a family within the team: We, not me. This is how a 700-student school can compete against schools triple their size. Athletic director Mike Smith included that "numbers are only one factor."
After winning six championships in the class AAAA division, the Eagles moved up to class AAAAA with Head Coach Jeff Ferguson. Then, after winning two more titles in that class, TG officially became a class 6A team with the enrollment of a 4A school. While the size difference is prominent, this added challenge did not stop the team from winning another championship in 2016.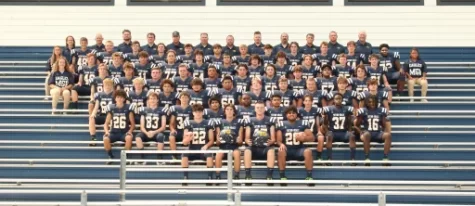 Ever since 2013, the Totino-Grace Eagles have been a well-known 6A team and a challenging competitor. 
Since the last opt-up, the team has only earned one championship title—yet they remain in the class. The team is currently in the second year of a 2-year policy to remain with the bigger schools.
Nevertheless, the Totino-Grace football team can thrive regardless of the competition. While undeniably these 6A schools have a larger number of athletes to select from, Coach Anderson answers "at the end of the day, an athlete is an athlete." 
Between 4A to 6A, it is clear the Totino-Grace team can match up with any competition. There are incredible, talented programs in all classes, and it is important to note that the Eagles didn't fly through the smaller division with no challenges or losses.
Senior Captain Nick Ruohonen stated, "We work very hard on and off the field. We will work hard no matter who we play."
Since this past week, the Eagles' record is now 1-2 with a win of Mounds View to start the season. The looks of this season are hard to predict currently, as Mike Smith put it: "there are many other factors that can be used to measure success beyond the scoreboard."
While Totino-Grace struggled last year but won the championship 5 years earlier, the team is still clearly talented. Because for TG it's not "all about winning and losing" stated Coach Anderson.

So where are the Eagles going to go from here? What can we expect to see? Coach Jay Anderson answered with, "If it was all about winning and losing, it would be different, but we want to reach our team's best potential"