Eagle Wresling Insider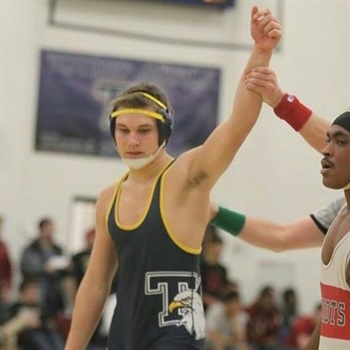 As fall sports start to wind down the winter season hype is building. On the mats this season the Eagles have some returners. Nate Schutz being one of them. The Eagles look for another chance in the state tournament this year.
The Eagles are known to produce some very good wrestlers. Two being Lance Benick and Jared Florell. Nate Schutz talked about the challenges of filling the spots of those seniors, "Finding people to fill the spots of the seniors and getting the younger guys to step up will be one of the challenges of the season."
Nate was a ranked wrestler last year and big things are expected from the TG senior this year. He knows what he is capable of and when we asked what his goal was for his senior year he said, "I'd like to place top five in the state." This is not an easy task when teams like Fridley, Simley and Bloomington Kennedy stand in your way.
We also talked to Nate a little bit about the mental side of wrestling and the tough task of staying motivated and hungry for victory in the season. Nate said one of the biggest challenges for him is, "Staying motivated throughout the season to keep working hard but  that's just something you learn to do and fight through it." Sometimes wrestlers also have to cut weight. If you ever make a trip to the weight room during wrestling season you maybe will catch a glimpse of the likes of Josh Clark or Nate Schutz on the treadmill in sweats and a sweatshirt. They are trying to cut weight by sweating a lot. You may ask what wrestlers eat while cutting weight and we asked Nate that same question. He said a typical meal while cutting weight may just be "Not eating at all" or "A little bit of fruit."
Talking to Nate opened my eyes about how hard wrestling really is. I have a new appreciation for the boys, you should make an effort to get out and see them on the mats this winter.