The History of Company of Singers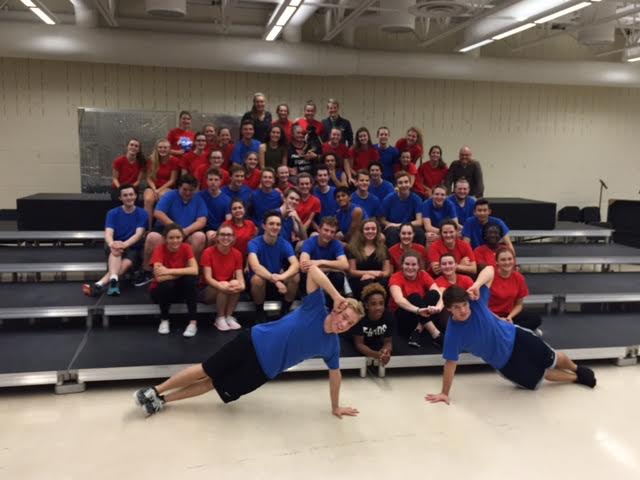 Company of Singers is the nationally-recognized, varsity show choir of Totino-Grace and has brought a lot of success to the school. It began in the 90's and has performed all over the country in places like Chicago, Nashville, and New York.

Company of Singers existed as a Chamber group before Mr. Terry Voss began teaching at TG in 1990. He turned that choir into a show choir during his first year of teaching. The original show choir was composed of 24 members and had 3 band members, a drummer, pianist, and guitarist. Over the years, Company became more popular at school, with around 50 members now. In recent years, the choir has been admitting more younger students and has taken on more advanced choreography and songs.

Company of Singers has become one of the most recognizable names in show choir history. They've always been directed by Terry Voss, who is now one of the most respected directors in the show choir world. Company is known for its focus, poise, close-knit community, and history of having successful shows. "They bring a much needed 'niche' for many students.  Nerds, jocks, outgoing youth, and shy youth can all come together to form something powerful.  Having COS at our school creates an avenue for potential students considering Totino-Grace that want to try something new, or continue to hone their musical talent." said Ms. Fahlstrom who was part of the group when she was a student.

Their most well-known show was in 2010, when the group won every single caption award and won every competition during their season. The choir has qualified for national competitions and has placed well. Other than competing with their show, the group has been in a Subway commercial, on a TV show on the Dance Network, and performed at the Ordway and many other theatres.

One of the most impressive seasons in Company history was in 2016. The group wasn't enjoying the usual amount of success and didn't even make it to finals at one competition. But, they worked hard and still went to the Nashville National Competition at the Grand Ole Opry and got First Runner-Up.

"

No matter who you are, Company is a home for all."

— Ben Stagg

"

Ben Stagg, senior, said, "Over the years Company has grown more diverse in the people we have. We have people from all walks of life who play all sports, and participate in pretty much every activity in TG.