Barbara Bush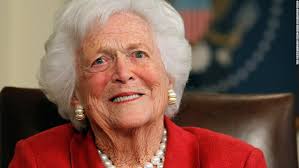 Barbara Bush, the former first lady, recently passed away at age 92. As the second woman to be related to the President as both a mother and a wife, she had a strong influence throughout her lifetime and left behind a legacy that will not be forgotten.
Barbara Bush was married for 70 years to former President George H.W. Bush. From 1981 to 1989, she served as the second lady during Ronald Reagan's presidency, and from 1989 to 1993, she served as the first lady to her husband. Her son, George W. Bush, served as President from 2001 to 2009. During her husband's time as president, Barbara Bush impacted the role as first lady greatly. She is often referred to as the matriarch of the Republican Party.
During Barbara Bush's role as first lady, she challenged the stigma surrounding the AIDS virus. In 1988, she visited a hospital and was photographed and filmed holding babies who had been infected with the HIV virus, when at the time the misconception was that the virus was transferable through skin-to-skin contact. "You can hug and pick up AIDS babies and people who have the HIV virus," stated Bush at the time, "There is a need for compassion." According to TIMES, her husband's endorsement for more federal funds for AIDS was partially due to her visits to the hospitals. Founding the Barbara Bush Foundation for Family Literacy in 1989, the non-profit organization and her passion that went into it helped families across the United States. Along with literacy, her other passions included helping the homeless and the elderly.
On April 17th, former President Bill Clinton tweeted on her passing: "Barbara Bush was a remarkable woman. She had grit & grace, brains & beauty. She was fierce and feisty in support of her family & friends, her country & her causes. She showed us what an honest, vibrant, full life looks like. Hillary and I mourn her passing and bless her memory." Many others have been voicing their support for her and her family, including her grandchild, Jenna Bush Hager, who shared a letter on TODAY, including: "you wrote the rules and your rules were simple. Treat everyone equally, don't look down on anyone, use your voices for good, read all the great books".
During a commencement speech Barbara Bush gave at Wellesley College, a school in Massachusetts, she stated: "And who knows? Somewhere out there in this audience may even be someone who will one day follow in my footsteps, and preside over the White House as the President's spouse. I wish him well!"