Wrestling Team Battles at State Tournament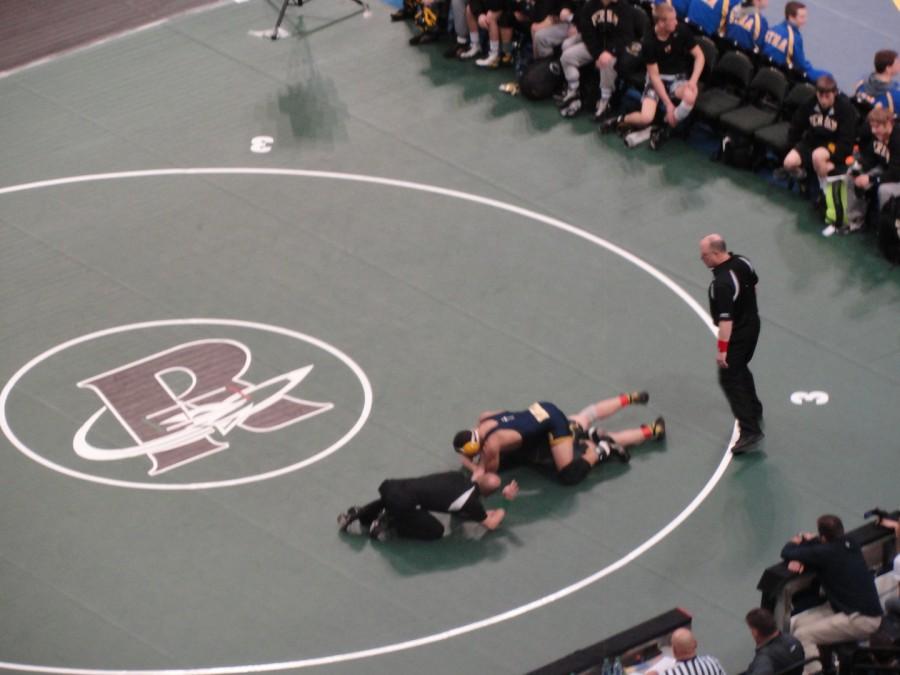 The Eagles wrestled last Thursday among some of the best teams in state, but came up short of placing. Late Wednesday night, the wrestlers could be seen running around the Xcel Energy Center, trying to shed their last few ounces before weigh ins. TG was faced up against Simley, a team that has won seven state titles in the last ten years. They were the second seed in this year's tournament.
TG wrestled hard against Simley, but came up short by a score of 53-15. Next, the team dropped down to the consolation bracket, and were set to wrestle Perham. They battled, but the team came up short once again with the final score being 46-21. The Eagles left with their heads held high, knowing that they were still one of the top eight teams in the state.
In the individual state tournament the Eagles soared into a historic year. Sam Anderson, Jared Florell, Josh Clark and Jake Svihel entered the tournament. Sophomore Josh Clark wrestled hard, but lost his first match which forced him out of the tournament. Junior Jared Florell was hoping to redeem himself after being defeated in last year's finals, but lost a close semifinal match 6-5, shattering his dreams of being the champion. Senior Sam Anderson fought hard, but also lost in the semi-finals with the final score being 5-4."It was a tough loss, but it is one of the coolest experiences I've ever had. I will remember this forever," Sam said about the match.
During the tournament there were plenty of upsets, but a big upset was because of one of TG's wrestlers Jake Svihel. Jake was set to wrestle the undefeated and first ranked 106 pound wrestler in the state in the semi-finals. Jake wrestled his heart out, and in the end he came out victorious with a 6-3 victory. Jake was rewarded with hugs from his dad, who's the head coach of TG. Jake then went on to a tough 13-6 state championship loss, but is hopeful to redeem himself in next year's tournament. All of the wrestlers fought hard, and are very excited to see what next year has to bring them.