Totino-Grace Bowling Team Strikes the Season
While the team is currently under the radar, they are still exceeding expectations with a successful season.
The Totino-Grace Bowling is an unrecognized, underappreciated, and—in addition—undefeated team during this 2022 season. Consisting of only 5 players, the team is still very strong yet unfortunately unnoticed. 
Head coach Dave Druk has been coaching the team for three years but has been bowling since he was 5 years old. Druk values the sport itself so much because "it is a true lifelong sport." 
Many students and faculty members at Totino-Grace don't understand the structure of a bowling team, such as their practices and competitions. This leads the team to become an interesting concept: the unknown. 
The team practices twice a week where, for the most part, the players run the practice by throwing balls and playing games for improvement. In addition, most weeks they try to scrimmage against another school that shares the same bowling alley as the team. 
This season, the team is performing extremely well with 10 wins and 0 losses, as well as being in first place for the Metro Central Bowling Conference. This is a great improvement from last year when the season began with a total of 2 wins.  Druk believes that the team has the "desire and potential to go further" than years in the past.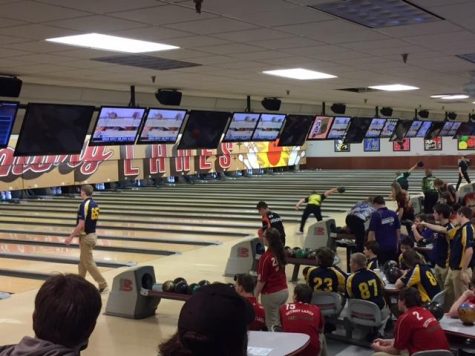 The varsity team involves 5 players and a majority of which are returning seniors. One senior, second-year player Richard Zieske, even included that he only became a part of the team because his mom made him join. Since then, Zieske added that the team has provided him with a good "sense of responsibility" with their reliance on each other throughout the season. 
Bowling is an activity many people participate in, but very few compete. Unlike football, soccer, or basketball, the team doesn't necessarily receive a student section at their matches. This, too, adds to the team's ultimate resilience and success.
The team doesn't receive nearly as much credit as other, faster-paced sports, but that clearly isn't why the team competes. The players don't compete for recognition; they play for themselves and for their team.
In relation to the team's current record this season, Zieske sees their "bond and connection with each other" as what ultimately brings the team's success. While each individual player bowls themself during a competition, not every member needs to have a perfect game to win the match overall.
This makes the sport so special.
The head coach made the comment that, at each match, if a certain player doesn't "have a great game, others can pick you up."
Overall, the team and the sport are different from others here at TG, but their goal isn't to gain appreciation, it's playing a game they love with people they care about.