Kenya McKnight-Ahad improving the lives of African Americans in North Minneapolis.
She aims to create better living conditions for the upcoming generation in her community.
Kenya McKnight-Ahad is a 45-year-old woman who is working to improve the lives of many African Americans living in poverty. She established the Black women's wealth Alliance in Minneapolis to help financially poor black women.  
She was born in Illinois, Chicago. Her great grandparents moved from Mississippi to the Chicago area and further moved to north Minneapolis. She grew up in a poor black household and also experienced street life. Her younger brother was killed in a gunfight. She was homeless and selling drugs to get money at one point.
Her grandma was a candy store owner. McKnight-Ahad had the chance to explore the business world in a small environment while working with her grandma. She said the job experience gave her a basic foundation. And now she is a woman working to elevate the living standards of black women.
Women's annual or monthly revenue differs considerably by race and ethnicity. Recent studies have shown that Asian women have the highest annual earnings, followed by white women. Unfortunately, average Black women have minimum earnings. Kenya believes that Black women lost more jobs during the economic recovery than they had during the recession.
There are various factors affecting Black women from reaching their financial goals. The low living standards in an African American household often make it hard for many African Americans to prosper. 
Low quality of life is one of the reasons why black women don't earn an adequate amount of money. Learning this fact motivated McKnight-Ahad to stand out. She is now an entrepreneur and a real estate owner.  
She won two fellowships in community engagement and economic development. In the past year, she bought the building she was living in in North Minneapolis. She bought the building from Catalyst for $1.1 million.
She named the building Zarah, meaning beauty and radiance in the Arabic language. She has also created numerous job opportunities to empower her fellow Black women. Her story has inspired many young Black women in her community.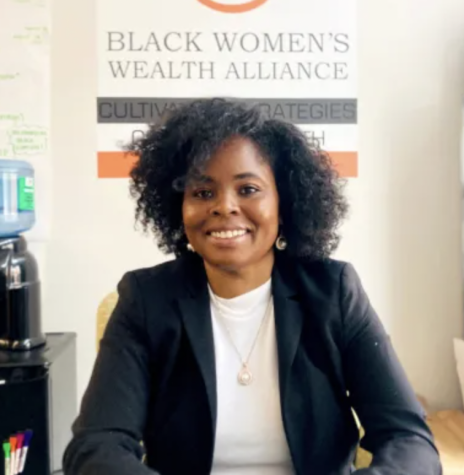 A North Minneapolis resident in my neighborhood is an immigrant who migrated from Nigeria to the United States in his early 20s.
He is named Adebowale Afamefuna. He is a gas station owner in North Minneapolis. He is married and has three kids. 
Afamefuna has been living in North Minneapolis for more than 10 years now. He mentioned that he feels positive about his environment. It seems like he is excited by the changes he is witnessing in his neighborhood.
He is delighted by McKnight-Ahad's decision to take a major step forward to better the lives of Black women. He commented, "She is off to a good start."   
McKnight-Ahad is hopeful that the black communities in Minneapolis will prosper, despite their history of disenfranchisement. Her end goal is to make Black communities more secure in Minneapolis.