Hot Start to the Football Season
Will the momentum carry through the season?
After a disappointing season last year, the Totino-Grace Football team is staying positive. They believe they will have more success this year despite a tough schedule. Senior linebacker Thomas Mellas, said, "I expect us to go out and to give every team that challenges us to have a hard time getting us to just quit and give up."
Senior linebacker James Edeburn said, "We are going to practice hard with new methods and coaching strategies and work more as a unit. We have new guys filling the special teams roles that added to our disappointing loss last year." 
After a close win the first week against Mounds View, they were able to rally the school behind them for an even bigger turnout for the home opener. 
Winning the first game of the season 27-20 was a huge boost to morale after a rather upsetting season, previously going 1-8. The only team they beat, Champlin, went an unfortunate 0-9 last year. 
The students and fans trying to capitalize on the win after the first game ran into what will be a familiar sight this season, a good team coming off a hot season. 
The team is allowing the seniors to mentor many juniors and underclassmen to allow the next few years of football to grow and learn from their mistakes without losing their chance to win.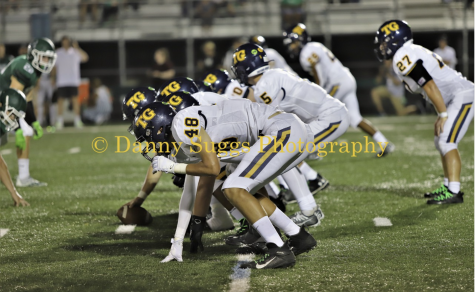 Despite a tough season last year, the students were able to still manage to have a good time and cheer for the team lifting their spirits after tough losses. The win in week one added all the more to the school spirit. Even after the tough loss to Maple Grove in week two, the students and the parents can't wait for the next game. 
One student said, "It's hard to believe that we won the first game of the season against An opponent that we didn't beat last year." 
The team's season ended in a heartbreaking way last year. After losing 7 out of 8 games going into the playoffs, they came up short losing by a field goal in overtime. 
The school hopes to keep the momentum from the previous win, disregarding the considerable loss after a hot start. They want to learn from it but not focus too much on the loss. 
After all the things that might happen this season, one thing is for sure. The future of Totino-Grace football is looking bright. 
This is not only because of the new start to the season but largely due to the coaches have changed their approach to the game as well as the players pushing themselves and taking accountability in both the wins and the losses.