Totino Grace's Environmental Club
Creating a long lasting impact to better the environment
As climate change and pollution continue to impact Mother Earth, it doesn't seem so bad to protect her as she has sacrificed so much for us to live. That's where the Totino Grace Environmental Club comes in.
It was founded about a year ago by fellow Totino-Grace students Ella Voorhees, Molly Vance, Kaitlyn Brandt, and Biology teacher, Mrs. Schimdt with the simple idea of making Totino-Grace an environment-friendly campus. But it does so much more than that. 
By doing your part, you are creating a ripple effect that is benefiting the whole world. Just by simply bringing your own water bottle rather than buying one you're not only saving money but a waste of plastic that could have been avoided.  Senior Danielle Gagnon said: "It's so awesome to finally see people interested in protecting the environment, let alone a group developing in concern for it." 
The TG environment movement started about two years ago with two former students, Angelina Bianca, Lianna Linn, and Mrs. Schmidt when they went to Dr. Junker with the idea of replacing the plastic TG branded bottles with drinking filling stations for water bottles. 
This in turn would cut down on carbon emissions and the waste of plastic. Fast forward two years and TG has four water filling stations and brand new trash cans. Although we did not completely get rid of the plastic bottles sold at TG, we have cut down on buying them, which, in turn, has reduced carbon emissions.   
When I first heard about the TG environmental club I was quite interested. I've always been interested in protecting the environment as it is the very thing that supports us. They host monthly meetings, fall and spring clean-ups, and create inspirational posters.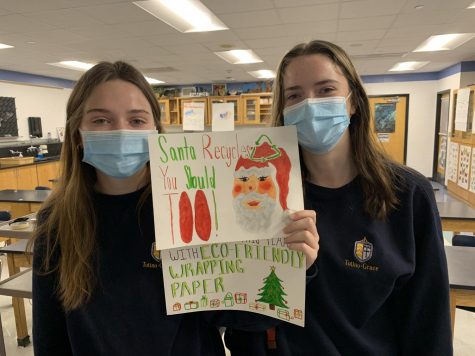 The club has attracted many environment-concerned students wanting to make an impact. The first meeting alone filled Mrs. Schimdt's room capacity and lots of open ears were ready to make suggestions when the time presented itself. There is no limit on the club and anyone is welcome to join.
The club has some big plans in the mix including a donation bin with prize money for the school that donates the most. This will come into effect in the next couple of months and as a club, we are excited to see its impact.  
Think of the environment as your family. Would you feel comfortable people littering in your house? Polluting your living area, causing permanent health conditions and long-lasting problems.
This is the environment as a whole. Every organism deserves a sustainable habitat to live in, just as we do. So why not kill two birds with one stone. Maybe even several birds. 
By doing your small part of picking up trash at your local school or park, or by recycling your plastic into the right bin, it's a small rippling effect that impacts the whole world. By cutting down on emissions and pollution you are doing your part to return the environment to a fully sustainable life form just as mother nature intended.