Totino-Grace Mock Trial Team Sees Massive Growth Over Two Year Span
A surge in popularity catapulted by the cancellation of activities
Two years ago, the Covid pandemic ravaged sporting events and canceled activities for many students at Totino-Grace High School. With many of their activities lost, some students turned to Mock Trial as a replacement.
Mock Trial is a competition where students simulate a fictional trial. There is a plaintiff and defendant, each with three witnesses and three attorneys. Every year the case type rotates from a criminal to a civil case.  
"When I started we had around ten to eleven members and we scrambled to get a team. Although in recent years we've seen consistent growth," said coach Joe Morcomb. 
Morcomb became the coach of the Mock Trial team seven years ago and has focused on creating a fun environment for students. "We've created a culture of family. We care about you, not just winning," Morcomb added. 
This fun environment that Morcomb has created in the Mock Trial program is one of many factors that has led to the surge in popularity. Another factor would be the large number of students at TG who were missing their activities because of the Covid-19 pandemic. 
"When I started we had 13 people or less in the program, now we have more than 30 people who have shown interest," senior Sam Trevino said. Trevino has been in Mock Trial for the last four years and was selected last year to be the Senior captain of the program. 
This surge in popularity has opened up plenty of possibilities including having two teams rather than one. This aspect was implemented last year to accommodate the large number of members.
The program has also been able to hire an extra coach to properly fit the needs of the team.
"I think we were able to better recruit and communicate with people and Covid did cut a lot of activities which made more people want to join," Trevino explained.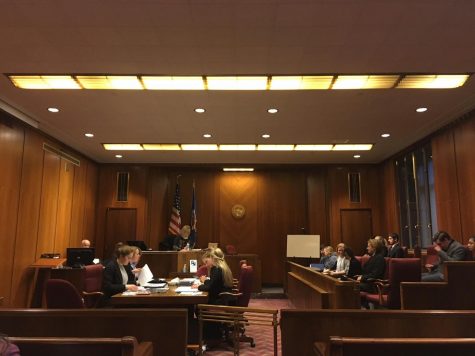 Mock Trial was one of the few activities last year that was able to still compete without the worry of cancellation due to Covid. Trials last year were hosted on Zoom, which allowed for attorneys and witnesses to compete from the comforts of their homes.
While some people joined due to a lack of activities, others did in pure interest. 
"I've always liked to argue with people. Before I did debate although that wasn't cutting it for me," said junior Jackson Altstaetter. 
Last year, Alstaetter transferred to Totino-Grace from Roseville High School. He had heard about Mock Trial from his family and thus reached out to Mr. Morcomb to join. 
"When I did debate, people would just read off a card as fast as they could and that would be it. I found the court setting and different roles available in Mock Trial interesting," Altstaetter added.
This year's case for Mock Trial is set to come out sometime in the coming weeks and competitions will follow in the winter. Many people at TG who are in Mock Trial have activities around the same time but are able to stay up to date through communication with teammates. 
Unfortunately, it's likely that most trials this year in Minnesota will be online. Nevertheless, teams are still preparing for what's sure to be an exciting season for Mock Trial.