Friday Night Lights are back on
TG students come out in full force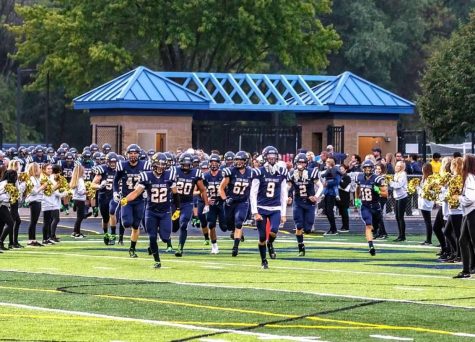 The student section at Totino-Grace High School has been out in full force at the school's football games this year. After not being able to attend the games last year, it is evident that students are making it a priority to be under the Friday night lights.  
Due to restrictions put in place last year because of COVID, in the 2020 football season, schools were not allowed to have student sections and limited the number of fans that could attend. Each player received two tickets to give out, which usually went to their families.
Senior football player Brennan Blake said, "There was definitely less hype around the game (last year). One of the best things about football is running out and seeing all the support from the fans."
"I watched the other seniors the last two years have their seasons ruined," Blake said. "This year's seniors are very grateful for a normal season with support from the fans."
Coach Brian Litecky stated, "great memories that are a pretty special part of the high school experience." Many students feel that these memories were ripped away from them last season. 
The school's senior class of 2022, in particular, makes it clear that it is very important to them that they get to have somewhat of a "normal" senior year. This includes being able to attend sporting events and being able to be a part of the school's student sections, especially football – the largest student section at the school.
A few seniors said that they missed getting "hype" with their friends and teammates during the games.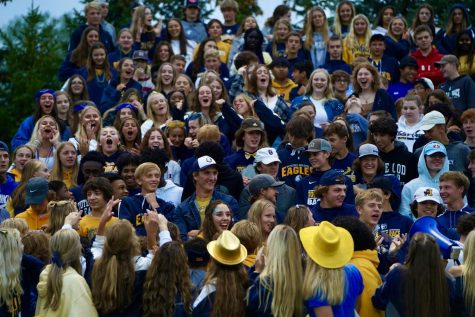 Senior Jackie Hove said, "Not being able to attend football games was very heartbreaking. Getting ready with friends and creating memories and laughs that will last forever. As a senior, I missed out on one year of memories and I want my last year to be memorable."
Along with high attendance and energy, according to senior Kiley Wolla, "over the last three games, people are going all out on their outfits". Each game has a "dress-up theme" that the student section follows. 
The team has started the season 0-4, playing against the biggest schools in the state. But the Totino-Grace student fans make it clear that past years' lockdowns and restrictions have contributed to the higher attendance and energy of this year's Eagle student section.
Students are continuing to make it a priority to cheer on their classmates and stay involved in the new, less restrictive school year.