Reversing a Switch
Football and volleyball are now allowed to participate in a fall season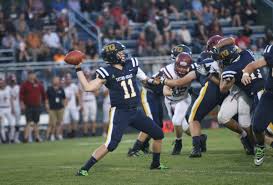 The Minnesota State High School League on September 21, 2020, reversed their decision to have football and volleyball in the spring. They will now be played in the fall.  Despite the growing number of cases, the decision to reverse seasons benefits a lot of student-athletes, but not all as some of them committed to playing a different fall sport.
Switching the season puts student-athletes in an awkward situation. "In my opinion, students who joined a fall sport have to wait to join football until their season is done because they made a commitment to another team first," Jay Anderson, the head coach of the Totino-Grace football team stated. 
The guidelines for audiences will also play a role in the changes we are going through. "Football will have a two hundred and fifty maximum capacity, one hundred twenty-five for each team. Masks are highly encouraged and social distancing will happen. Volleyball will have no fans. We are looking into a live stream option to watch the games. Volleyball is easier to live stream than football," Mr. Mike Smith, the athletic director at Totino-Grace said. 
The MSHSL had a big meeting with citizens being able to join, listen, and vote on bringing sports back to fall. The board offered a survey that calculated an 80% vote to bring football back and 76% for volleyball. Football and volleyball are the most popular fall sports, but their seasons will, unfortunately, be shortened.
"Football will have 6 games and last 10 weeks. 2 weeks of practice and 6 weeks of games. As the season ends, there will be a 2 week postseason. Volleyball will have 2 weeks of practice and 7 weeks of games. As the season ends, there will be a 2 week postseason," Smith stated. 
Many student-athletes are satisfied with the switch, but some are not happy. "No, I am not excited about the switch. I would be okay if they would have given a little more time. Preferably starting around October 12, but everything is so rushed right now," Brynn Smith, a senior captain of the Totino Grace volleyball team said.  
Anderson said, "Yes, as long as it's safe. Keeping the kids and coaches safe is a priority. I have 28 years of coaching experience. Even with changes, I'm excited about the team and especially for the seniors to play." 
"Yeah, I am happy because with all our practicing in the summer/recent weeks all the players and coaches have been itching to play real games. Even though some of our games will be cold, I think it will be better than having to wait for the fields to thaw in the spring. Playing football in the fall now allows athletes that play a spring sport such as baseball to eliminate their conflicts," Sam Fretheim, a senior football player who is also satisfied with the switch stated.
The student-athletes of football and volleyball teams have mixed feelings about the switch, but overall are excited to see what the season brings. Athletes, families, and schools are looking forward to the season with special guidelines to keep everyone safe and healthy.