2020 Winter Sport Haze
What might the future of Minnesota high school sports look like this winter
Fridley, MN- The current status for winter Minnesota high school sports is in deep question and leaves many student-athletes, coaches, and parents wondering what it will bring.
The Minnesota State High School League met for a meeting on October 1 voting on having the winter sports compete while having their games and seasons be reduced by 30%. Each sport is being delayed to start later than it originally would have.
For the fall sports seasons, there will be no state tournaments and will only compete until the section level. In addition to having no state tournaments, for volleyball, which is indoors, there will be no spectators.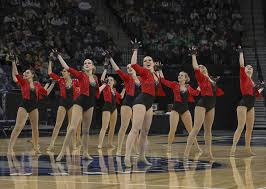 Kristen Gagnon, the head coach of the Totino-Grace E'gals dance team, shed light on the high school sports situation. Gagnon is 100% comfortable with coaching during the pandemic and added that there has been a lot of success with the guidelines of most sports.
Regarding the winter flu season"it will be more confusing to manage your symptoms regarding whether it is the flu or coronavirus," Gagnon said. Gagnon additionally added that if schools have to close due to coronavirus that potentially could impact the sports.  
Two student-athletes who play winter sports at Totino-Grace are facing the same questions as many from around the state. When asked about how comfortable they are continuing their sports in the 2020 winter flu season, they added that they will be comfortable because they both have not experienced any outbreaks while practicing in the offseason.
The two athletes also added that they do not want their sports to be delayed because it will cause disruption for other sports and cause worry for students who have to play their sports for college recruitment.  Both athletes said that at their sports and in their day to day life, they are taking proper precautions for social distancing, wearing masks, and applying hand sanitizer.
The effects of high school sports also affect student-athletes parents. The parents of a student-athlete expressed concerns over not being able to watch their daughter's sports games in person. They added that she is a senior and shared that it will be heartbreaking to have to watch her last season of dance through a computer or phone.
"The class of 2021 has had so much taken from them and we should try to keep some normalcy for their sake," they said. The parents of this student-athlete are one of the thousands in the state of Minnesota wondering what the fate will be.
The parents also added that they would like to keep their winter sports within the normal season and months because moving it would not make it a winter season anymore. They also included that it potentially could be a conflict for athletes who play spring sports.
The moving of the volleyball and football season back to the fall is making winter athletes more hopeful. The two sports being moved also will allow people to research how potential COVID transmission could impact the upcoming seasons, giving us more detail on whether spectators should or should not be allowed at the winter sports games.
The winter will be a tale of the future and is still a major question.