Toronto Van Attack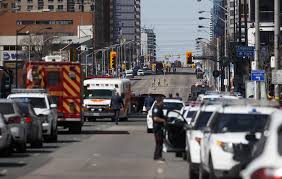 Rachel Holmgren, Reporter
May 1, 2018
Many people's lives were changed on April 23rd, 2018, as a van speed over the sidewalk, hitting a total of 26 people. 10 people were killed in this attack and 16 were injured. A man later identified as Alek Minassian used a rented van to speed through the sidewalk, intentionally trying to hit pedestrians. This attack is the deadliest vehicle-ramming attack in Canadian history.
The attack began at 1:24 pm when Minassian ran a red light at Finch Avenue and then drove up onto the west sidewalk on Yonge Street. He began to hit pedestrians and continued for multiple blocks, hitting even more people. This is when the first 9-1-1 call was made. The van reached Tolman Street at 1:24 pm. At some point, the van went back onto the street and hit more people in front of Mel Lastman Square, a civic plaza.
Police and paramedics were dispatched to the scene and Sunnybrook Health Sciences Centre was activated as where the victims would be taken. Nine people were pronounced dead at the scene. A total of 15 were taken to the hospital. The hospital reported that as the victims came in, two arrived without vital signs and were pronounced dead on arrival, five were in critical condition, two serious and one in fair condition.
After the first attacks, Toronto Police Service constable Ken Lam intercepted the van and began to approach the van. Minassian was standing near the opened driver-side door. He drew his hand from his back pocket and pointed a dark object toward Lam. The officer ordered Minassian to drop to the ground, while he repeatedly told the officer to kill him, saying "in the head!" Lam warned Minassian that he may be shot. As Lam got closer to Minassian, he saw that the object was not a gun so he holstered his gun and took out his baton. Minassian dropped the dark object in his hand, went to the ground, and surrendered. He was arrested at 1:32 pm, meaning the attack lasted less than 10 minutes but was still deadly.
Alek Minassian appeared before the Ontario Court of Justice, without a lawyer, on April 24th. He was shackled and wearing a white prison jumpsuit. Minassian's father attended his son's hearing, crying but he did not speak to his son. He is scheduled to return on May 10 for a bail hearing. Minassian was charged with 10 counts of 1st-degree murder and 13 attempted murders. In total, police expect there to be a total of 16 charges of attempted murder. Toronto police released the names of all these 26 victims on April 27th.
A witness said he saw Minassian looking his victims in the eye as he ran over his victims. This shows that he had no remorse for killing all them. The witness said it looked as if he was playing a video game and trying to kill as many people as he could.
Toronto police determined that this attack was not a terrorist attack.Canada will forever be affected by this attack and will probably begin to look at ways to prevent such an attack again since this is such a pedestrian-filled city.