Timberwolves Tumble into the Playoffs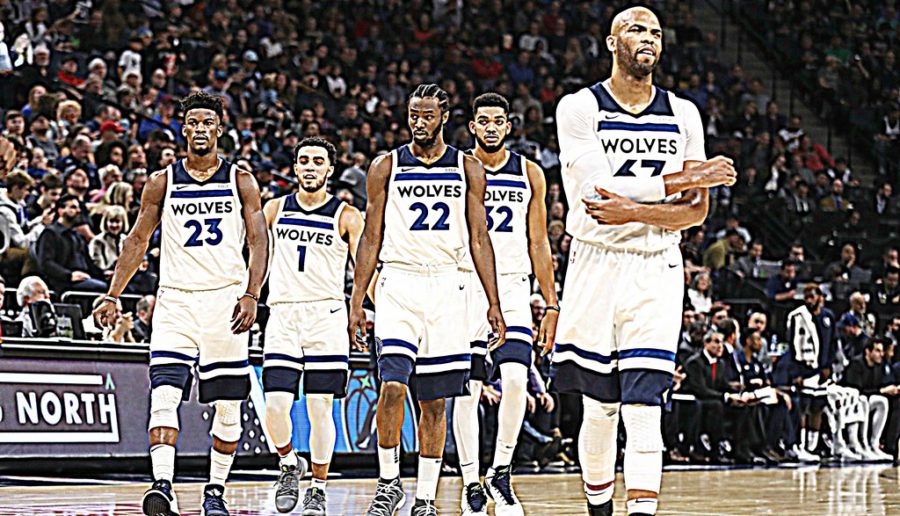 Braeden Mischke, Reporter
April 24, 2018
For the first time in 14 years, the Minnesota Timberwolves will be competing for an NBA championship as they have made the playoffs. The last time a Wolves fan can boast about their team being in the playoffs was in 2004. The team then was led by Kevin Garnett, Fred Hoiberg, and Wally Szczerbiak. The Wolves face the Houston Rockets Sunday night in Houston.
In a win or go home game, the Wolves managed to squeak one out against the Denver Nuggets on Wednesday night. It was a back and forth game, with the winner taking the final spot in the playoffs, the eight seed. It was a playoff-like atmosphere inside the Target Center with the stakes so high. The entered overtime, but in the extra period, the Butler led wolves pulled away and won 112-106.
Soon the team will travel to Houston to start preparing for the top team in the league. The Rockets secured the 1 seed very early in the season and finished the regular season with a 65-17 record, 18 games ahead of Minnesota. The rockets have been led all year by likely MVP James Harden. He is currently averaging 30.4 ppg and 8.8 apg; But he is not their only option. Houston is second in the league in scoring per game, and this is because of the offseason addition of Chris Paul, and the mid-season addition of Gerald Green. Both players have been huge for Houston this year.
Minnesota will have to play some of their best basketball of the year if they hope to win this series, or even win a game or two. They lack a great perimeter shooter and have struggled on defense, so they hope that heroic play from Jimmy Butler and Karl Towns will help get the job done. With all this said, the Minnesota Timberwolves' fans should be ecstatic about this opportunity, and so should the team.