National College Decision Day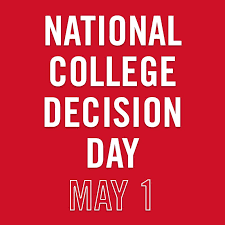 May 1st is National College Decision Day. 
The day is coming up, May 1, where seniors make their final decision about where they are going to college. There are many circumstances that take part in figuring out which college to go to. Students down below tell us which college they choose and why.
Gavin is attending the University of Minnesota Duluth in the fall. He liked the school ever since his sister attended there. Gavin enjoys the winter and playing pond hockey in various locations. He believes Duluth is the best city in Minnesota and it was a must to live there. He was contemplating going to NDSU but decided UMD because he liked the distance.
Roberta is attending Winona university in the fall. She enjoys the distance from home, she is also fond of the nursing program there. Roberta was thinking of attending Gustavus but didn't like the distance and size.
Maria is attending the University of Mary in Bismarck in the fall. She likes this school because they have a phenomenal education program. She's excited to adventure out of Minnesota and discovers new things. Maria has always wanted to attend the University of Mary and can't wait to fulfill her dream this upcoming fall.  
Mitch is attending University of Minnesota Duluth this upcoming fall. He enjoys the distance because it is close to his cabin and his loving family. Mitch fell in love with the city when he was five years old as Spirit Mountain. He described the views as breathtaking and exhilarating. Duluth has always been a top priority for Mitch, he's more than thrilled to start in the fall.
There is a common theme with deciding colleges, many students look specifically for distance. Going to school out of the state is can be challenging for some but not for all students.  College is an exciting step for seniors and it can be scary, but it all works out in the end.