Basketball Manager Profile
Totino-Graces's basketball managers this year are Jack Kroehler, John O'Dea, and Cassidy Matter ‒ all exemplary students who deserve to be regarded as leaders within the community. A managing position is one of the more overlooked roles when it comes to sports teams at TG. Few are willing to voluntarily make the necessary time commitments to constantly be at the service of both players and teams; however, those who often remain in the background, despite contributing so much toward the success of sports teams.
The managerial staff is comprised of the following students:
Jack Kroehler: Two-sport manager; also a member of the DECA program and the baseball team.
John O'Dea: Celebrated throughout the school for his heroics in the DECA district competition (refer to picture below) and a captain of the state championship-winning soccer team.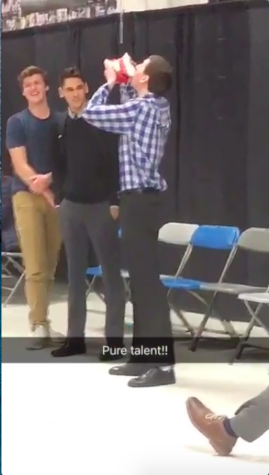 John O'Dea puts his health on the line for the sake of the school's reputation by attempting to consume a gallon of milk from a bag at the annual DECA district tournament.
Cassidy Matter: Outspoken "not a vegan but I don't really eat animal stuff" ‒ drives a Prius.
When asked what prompted them to manage, O'Dea and Kroehler, both seniors, agreed that they were deemed to be "too good" to be on the varsity basketball team, and therefore humbly accepted a management position. They quickly contracted a third member in the form of Cassidy Matter. The invitation is pictured below.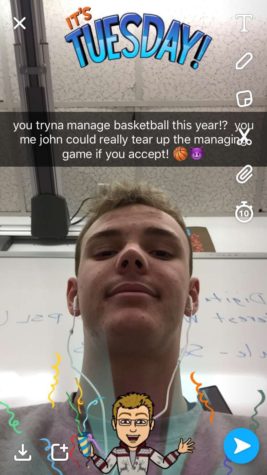 Managing positions come with a variety of duties, usually after school. When asked what they do on a daily basis for the basketball team, O'Dea instantly responded with, "What don't we do?" Among other things, the managers take stats during practices, drive underclassmen to the gas station to get snacks, and provide for players' personal needs. Matter even bakes cookies for the team before away games. O'Dea asserts that the team "would be nothing… probably have zero wins" and that "it would fall apart" without their presence, adding that athletes would "cry and get dehydrated because there's no one to get water."
O'Dea, when asked if they felt as if they were a part of the team, responded with, "Does the team feel like they're a part of us?" This goes to show just how relevant managers truly are.
On a typical game day, the managing crew would "chill with the boys at Kovalek's," helping to ease the tension and nerves. Upon arriving at school, they would prepare water and the jerseys. Matter films the games while the boys provide moral support.
They believe that, as Matter put it, they are set apart from others school's managers in that they go above and beyond to be "involved in the team's spiritual, physical, and mental wellbeing."
They wouldn't recommend a managing position to most people, given that they believe many can't handle the responsibilities.
In order to further recognize managers' contributions to TG sports, Kroehler and O'Dea suggested an annual kickball tournament followed by a gala in their honor, possibly with a fish fry, and the establishment of a Manager Hall of Fame.