18 Year Old U.S. Olympian Makes History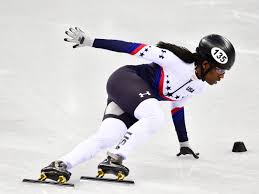 Lindsay Mayo, Reporter
February 15, 2018
Hang on for a minute...we're trying to find some more stories you might like.
Most 18-year-olds are worried about grades, the new shoes that came out, or deciding on a college to go to next year, but not Maame Biney. Qualifying last year for the Olympics as a 17-year-old, her life is quite different than most teenagers right now. Her journey as a short-track speed skater representing America in the Winter Olympics in Pyeongchang, South Korea, is not just about her goal of winning the gold, but about making history. As a high school senior, Biney is taking classes online because of her rigorous practice hours. Even though it may seem extreme, it has helped her get to the place she is at now, being an Olympic athlete. Not only is this an exhilarating experience for a teenager to be going to the Olympics, but Maame Biney has an eveN greater accomplishment than that. Biney, along with her fellow American speed skater Erin Jackson, age 25, is the first African-American women to represent the U.S. speedskating team in the Olympics.
Biney's passion for skating started at the age of five, shortly after she arrived at the U.S. from Ghana. With her mother and brother still in Ghana, her dad has been her biggest supporter by bringing her to skating practice early in the morning, cheering in the stands of her competitions. Maame says he will continue to be her biggest supporter by holding up a sign for her at the Olympics. Her dad, Kweku Biney, says that we have only seen a quarter of what she is able to do, maybe even less of that. Although Maame Biney is full of emotions and excitement about making it to the Olympics, she knows that her achievements are about more than just herself. She wants to inspire kids not only in the U.S. but also around the world to go out and do what they love, because it could turn into something amazing.