Selecting Course Electives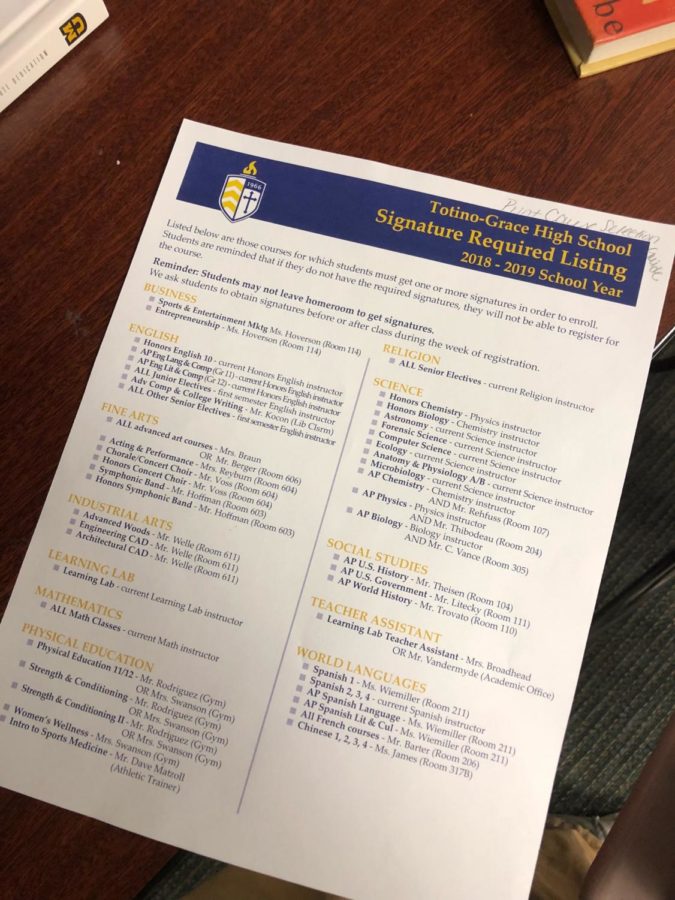 Ryan Samson, Reporter
February 16, 2018
Every February Totino-Grace opens registration to students for the following year. Freshman, sophomore, and junior year students are given their class options, except for electives.
During freshman and sophomore year,  electives are new, fresh, and there's a variety to choose from. Senior, and part of junior year, there are very few to choose from. Upperclassmen may have already taken their favorite electives, some electives may look boring, or some may be too difficult for senior slide schedules. Whatever the case may be, Totino-Grace has a wide variety of electives to choose from. Unlike other schools around the area, Totino-Grace has an elective choice for everyone. Upperclassmen are here to inform students which electives will most take time out of a students day and which will get the easiest A.
There are a few different categories to choose an elective from; art, business, English, industrial arts, music, science, social studies, and physical education. It is important to consider a student's strengths and the areas students excel at. Students should also take into consideration what teacher is teaching the class. Find a teacher and a category that fits those needs.
When finding a category, the next step is to find the specific class to join. There may be anywhere from two to ten options to choose from the category. Choose what sounds most interesting. Enjoying the category, enjoying the teacher, and exceeding the expectations in classes similar to the previous subject will ensure success in the class of choice.  
Some students are still unsure about what electives to take for future semesters. A few upperclassmen gave their opinions on the best electives at Totino-Grace.  Junior, Gavin Jeppeson says, " I enjoyed ceramics the most, I am in a creative feeling, where I can create my own pots and bowls. I love the environment of the art room." Junior Muny Ngigi said, "journalism because the teacher makes it fun and the subject we're learning is also very fun." Senior Andrew Nguyen said, "senior gym with Rod is the best. Rod lets you do what you want and when you want. You run the class."
Although only a few classes have been highlighted throughout this story, there's a larger variety to choose from. If interested in other electives, asking a teacher or upperclassmen can give you more information on the class.