Get to Know Tyler, The Creator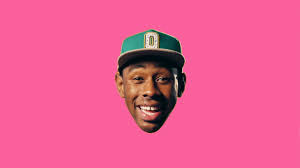 Tyler Gregory Okonma, better known by his stage name Tyler, the Creator, was born on March 6, 1991. He is an American rapper, record producer, and music video director. He is the leader of the hip-hop group Odd Future and has produced nearly every one of their songs along with his own music. On top of that, he owns a clothing brand called Golf Wang. Tyler, the Creator is always making a statement through his brightly colored clothing and spunky personality. 
Tyler's, first popular album, Goblin, released in 2011, and featured his first hit single, "Yonkers," which received attention from several online media outlets. His following albums Wolf (2013) and Cherry Bomb (2015) helped him gain the attention he needed for his most successful album yet, Flower Boy. This album released in early 2017,  and has been nominated for a Grammy Award. This is a very exciting moment for Tyler because he has never been nominated for such a prestigious award.
Tyler, the Creator, promotes individuality and positivity, and that is why he has such a good influence on rap music and American culture. Rap music doesn't have the best reputation because many times the messages prevailed are vain and full of references to drugs and alcohol. Tyler, the Creator, on the other hand, raps about real-world issues, his personal struggles with his sexuality, and the importance of individuality. One of Flower Boy's major themes is the need for progress regardless of emotional or creative roadblocks. The metaphor's to flowers represent Tyler accepting his sexuality and loving himself. Tyler, the Creator is inspiring because he is open about his life, and he doesn't care what people think of him. Tyler proves to be an upcoming top artist who will continue to challenge the rap industry and stand up for individuality.