The Best Deals on Black Friday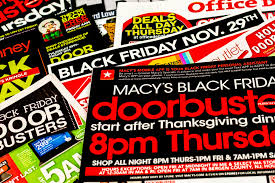 The best day of the year is only a few short days away, Black Friday! Black Friday is the biggest shopping day in the nation, and it takes place the day after Thanksgiving every year. This year, the event takes place on November 24. The best deals on Black Friday are found at Kohl's, Target, Walmart, and Best Buy.
Target's deals start from 6-12pm on Thanksgiving day and reopen at 6 am on Black Friday. Target will be offering 100s of doorbusters and 1000s of deals while quantities last. They also have exclusive deals like a $199 Jetson V12 all terrain hoverboard, a $29 Google Home Mini, a $49.99 Beats Headphones, and a $189.99 Xbox 1. Walmart will be open from 6 am Thanksgiving and throughout the day on Black Friday. They have special deals like a $148 Hoverboard, a $129 iPhone 6, $298 55 inch 4k Smart TV, and a $299 Nintendo "Switch" console. Kohl's will open an hour earlier this year at 5 pm on Thanksgiving and stay open throughout the night and day on Friday. Kohl's is known for having some of the best Black Friday deals. This year, they are offering a $189.99 Xbox One, a $299.99 55 inch 4k ultra HDTV, a $199.99 PlayStation 4 console, and a $449.99 Canon EOS Rebel T6. Another popular destination for Black Friday deals is at Best Buy. Best Buy discounts their very expensive electronics by hundreds of dollars. Best Buy will open Thursday at 5 pm, close at 1 am, and reopen at 8 am on Friday. A Samsung 4k Ultra HD TV is only $749.99, discounted by $350, and an Apple iPad mini 4 is only $274.99, saving $125.
Black Friday is the perfect time for getting all the gifts you need this holiday season. Don't forget to search all of your favorite store's ads online to find the best deals. Happy Shopping!