Vikings Quarterbacks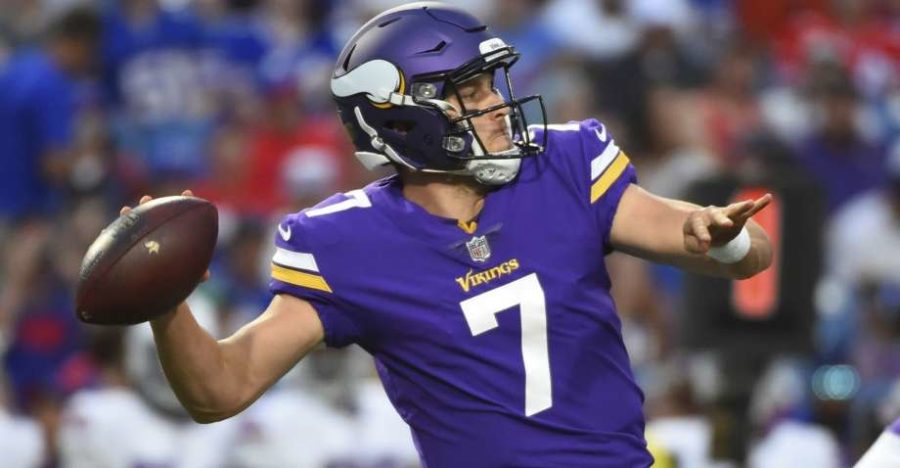 Teddy Bridgewater left practice early in the summer of the 2016 season with an ACL tear in his left knee. He was the starting quarterback for the Vikings in the 2014 and 2015 seasons.
After Teddy got hurt, the Vikings offense was at a loss for their starting quarterback position. Sam Bradford tried to step up, but wasn't able to sustain the offense when it really mattered. After Bradford got hurt and had to deal with some knee complications the backup QB Case Keenum out of Huston got his chance to shine. Keenum started out the season poorly going 1-2 through his first three games. After Dalvin Cook, the star rookie running back out of FSU, tore his ACL early in week four, the Vikings running game suffered heavily.
Their running game was weakened and they now had to rely heavily on their passing game. Case Keenum stepped up to the plate for the Vikings winning five straight with seven passing touchdowns and over 1,100 yards. He quickly jumped from a below average starting quarterback, who was just filling in till Teddy's return, to an above average QB1 who is leading a team in first place in the NFC North. Teddy Bridgewater suited up for the first time in nearly two years during Sunday's game against the Redskins. Although he didn't play, this was big step for him and the team.
They take on the Rams this coming Sunday, and it looks like the Vikings are going to keep Case in their starting line up and Teddy as an active backup. Teddy will likely not see the field this year if Keenum continues to play the way he has these last couple of weeks, but with such a shaky on and off type of quarterback, it could be any day that Teddy is able to step back out onto the field.
Throughout two seasons that Teddy played, he threw for over 6,100 yards, completing 28 touchdowns. If Case can't continue with his streak of good playmaking, Teddy will be there ready to step in and help take the Vikings deep into the playoffs. He is a great asset for the team to have, and it's even better to have a problem with having two quarterbacks who both are very talented and both are capable of leading a team. There's still a lot of season left, and Teddy might still get his chance to shine, he's just going to have to be patient.