Tampa Bay Takes the NHL by Storm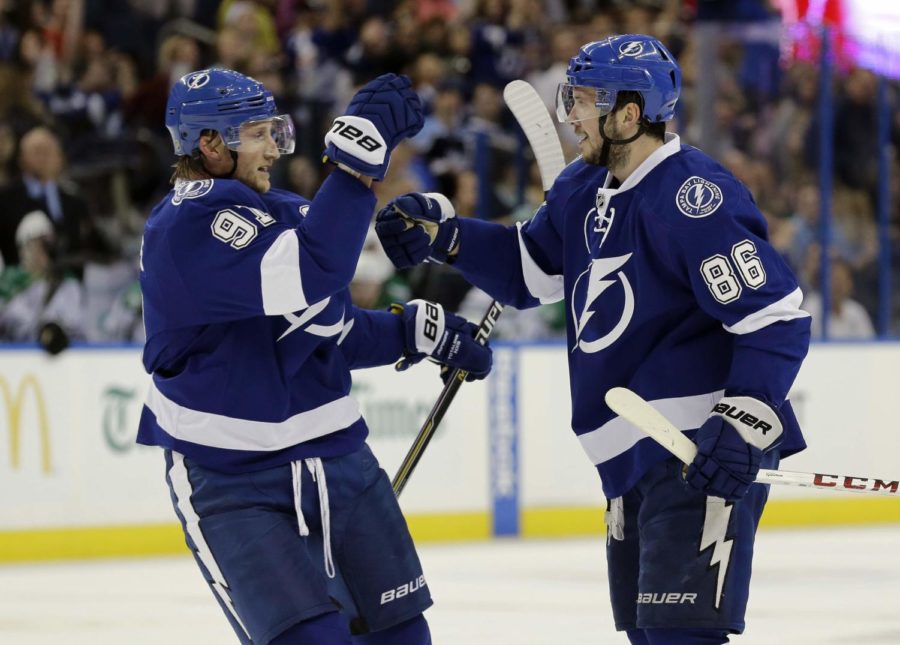 The Tampa Bay Lightning have made a big first impression on the NHL this year. Starting out the season with a record of 11 wins and only 4 losses through the first fifteen games. This gives them a commanding lead with 24 points in the Eastern Conference, five points above the New Jersey Devils. Their success this season can be greatly attributed to the 1st line center and Captain Steven Stamkos, alongside his Right-wing Nikita Kucherov. Stamkos is currently leading the NHL in points and assists with 25 points, 18 assists, and 7 goals. Kucherov is leading the NHL in goals and is just 2 points behind his linemate in points hoisting an astounding 14 goals and 9 assists to make 23 points in total. Together these two combine for almost 50 points in only 15 games. They have helped lead their team to victory several times this season so far.
In their overtime win versus the Washington Capitals, earlier this season, the game-winning goal was awarded to Brayden Point, with nonother than Nikita Kucherov and Steven Stamkos with the first and second assist.
In the Lightings matchup just last Saturday versus the Columbus Blue Jackets, Stamkos was able to lead his team to a victory with a game-winning goal in a shootout. Under the leadership of these two, as well as alternate captains Ryan Callahan and Ondrej Palat, The Lighting are shaping up to be a likely contender for the Stanley Cup this year.
The Lighting have not won a Stanley cup since back in 2003-04 when they bested the Calgary Flames in a seven-game series. They did, however, make an appearance in the 2014-15 Stanley cup series where they lost in a six-game series.
This past 2016-17 year, the Tampa Bay Lightning did not even qualify for a playoff spot. This makes the success they have found early in this season even more impressive as sometimes it can be hard for a team to come off a no postseason year and have such a good start to the next year. If the Lightning continue to play and put up the points the way they have been this season, there is no doubt that they will be a serious threat in the playoffs this year, and certainly not a team you'll want to see early in the postseason.