Chance the Rapper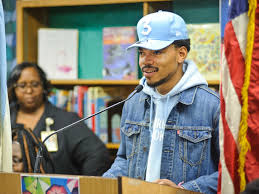 Chance the Rapper's mixtape "Acid Rap" threw him onto the scene in 2013 where he then moved onto releasing "Chance 3" which lead him to three Grammies in 2017. Chance has recently been reaching headlines for being an outspoken voice for Public School funding in Chicago.
Chance the Rapper alone has donated over one million dollars to Chicago Public Schools (CPS) and started a nonprofit organization that has raised over 2.2 million dollars for CPS. He has not only raised money but also awareness for the declining state of public schools. Chance has privately met with Illinois Governor Bruce Rauner on several occasions to discuss ways to make a change in Chicago. Little details have been released about these meetings that they have had, but the governor and Chance seem to have developed a relationship over this CPS issue.
One thing that may have come out of this meeting is Chance holding the first Social Works Summit on September 1st. At this meeting, he addressed a roomful of teachers and parents about the problems that CPS is facing and what Social Works is doing to help with these challenges and make Chicago a better place for their youth. The Social Works program handed out over 30,000 supply-filled backpacks to kids at the Bud Billiken parade.
Chance also teamed up with The Empowerment Plan to launch a new project Warmest Winter 2016. Warmest Winter is creating one-of-a-kind, self-heating, water resistance jackets for the homeless. These jackets can also be converted into sleeping bags and carry bags. Chicago temperatures dropping to -20 below cause several deaths every year due to hypothermia. Because of these Jackets alone, hypothermia-related deaths dropped 20 percent.
Through Chance's social media presence, he was able to create a 42 hour period without a gun-related crime. One of the longest Chicago has seen in years. Chance has created several programs, developed many relationships, donated and raised millions, and has literally saved people's lives. Chance used his platform to get across a great message for the city of Chicago, he truly is one of our generation's greatest influences.