Everything You Need to Know About Homecoming Week 2017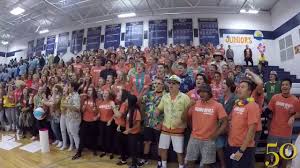 The most exciting week of the year is here, Totino- Grace's annual homecoming week! The whole first week of October is full of homecoming festivities.
The all-girls powderpuff game was scheduled for Sunday evening but was unfortunately canceled because of the rain. No update has been given yet about rescheduling the event.
This year's homecoming theme is "Roadtrip to Homecoming" and each day has a different dress up theme. Monday's theme was "travel day." Tuesday's theme was "regions day."  Every grade dressed up as a different region of the United States. The seniors represented the east coast, the juniors the west coast, the sophomores midwest, and the freshmen the south. Wednesday is "stadium tour day," students are encouraged to wear sports gear. Thursday student will wear their class homecoming t-shirts. is an exciting day because it is the day of the
Thursday, the most exciting day of homecoming week, is pepfest.  The pepfest includes live games and competitions between grades. The Egal's will be performing during this event with a boy of their choice.
There is no school Friday, but everyone is invited to attend the homecoming football game that night. The football game is at 7 at Jim Totino Stadium against Osseo. During the football game, the homecoming king and queens will be crowned. Students and faculty will be able to vote for candidates throughout the week.
Homecoming is all about bringing our community together through the act of service. There are many service opportunities throughout the week. On Tuesday, students had the opportunity to put together gift bags for the local charity, Open Arms of Minnesota. After school on Tuesday, students went to Sharing and Caring Hands. After school on Wednesday, students can go to Feed My Starving Children.
Along with service opportunities, our community is encouraged to donate as well. This year we will be raising money for hurricane relief, but there is a twist. To go along with our school theme, "Dare to Love," the school has implemented "dares" or prizes for every amount of money raised. For $1, 250, students win the chance to dare teachers. For $2,500, students are allowed to wear shorts during October. For $3,750, students are allowed to dress up for Christmas Mass. For $5,000, students are allowed outdoor recess or open gym during the winter and spring seasons. For $6,250, Totino's Pizza Rolls will be sold at lunch. For $7,500, Ms. Broadhead will have her hair done in cornrows during the pepfest. For $8,750, the students get to be out of uniform while the faculty has to be in uniform, and for the grand prize at $10,000, Mr. Blake will shave his head.
Homecoming week is a busy and exciting week. It brings our community together in service and fun. All students, faculty, and parents are invited to participate!