A license renewing nightmare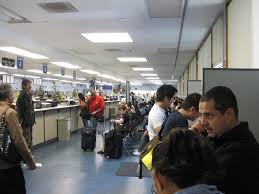 Mark O'Donnell, Contributor
January 9, 2017
Waiting in lines is never an exciting thing to do, but everyone has to do it. Whether it's waiting in line for some new Jordan shoes or waiting for that exclusive purse that only comes out once a year, I think waiting in a government building might be the worst of them all.
For seniors at TG that will be renewing their license this year when they turn 18, be careful if you think it will be a 10 minute visit to your local government building. While driving to the Hennepin County center in Maple Grove I really thought I would be filling out paperwork for about 15 minutes and then heading right back to my winter break plans. Walking into the Hennepin County Center indicated to me that waiting in a Government building was going to be a nightmare. My waiting time for the ticket number to be called was listed at 1 hour and 54 minutes and that moment I felt like leaving but driving with a suspended license wasn't an option.
I grew frustrated watching the workers take a break after every customer to go get a drink or do whatever they had to do. Trust me I get that it is was the holidays and people had work off which made it more busy, but the lack of speed in that building made you want to pull your hair out.
After about 2 hours my ticket number was finally called, and my license was finally renewed. The walk back to my car to get out of that parking lot never felt better.
Advice for people headed to the DMV
1. Go at an early time – Go at 10 a.m. This way you won't be caught in a big line like I was when I went at 1 p.m.
2. Be patient – the government workers have no time for a sassy attitude.
3.  DO NOT talk to them in a demanding tone – it will just make your process go a hundred times slower as they will make sure they take their time when renewing your license.
Hopefully your trip to the local DMV will be a lot less stressful than mine.