Boys Basketball defeats Spring Lake Park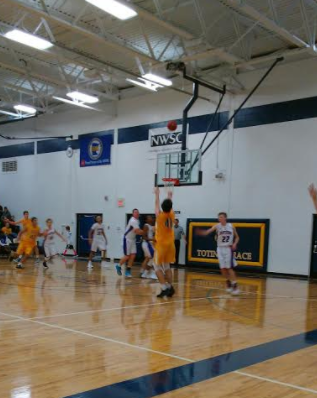 Jacob Elwell, Sports Editor
December 21, 2016
The boys basketball team played the Spring Lake Park Panthers on Tuesday night in an epic border battle. It was a well played game for the Eagles, as they took down the Panthers 98-64. Totino-Grace moved up to 4-0, continuing their undefeated season.
Things were clicking for the Eagles all night. Shots were going in, fouls were being called, and good defense was being played. Junior Braeden Mischke led Totino-Grace in scoring with 21 points followed by junior Will Schmidt, who scored 17. Seniors Nathan Kavolak and Rocky Kreuser also contributed, each scoring 15 points.
Senior Zach Ban is still on the bench with a leg injury, and Mischke has filled in for him ever since. "Braeden Mischke has done a great job stepping up and filling that void for us so far. His ability to play on ball defense and knock down shots has really helped us. I think the best asset that we have this year is our depth. We have guys that can step up and produce every night, which makes it hard to stop us," said junior point guard Charlie Jacob. "4-0 feels good, but by no means are we satisfied. We expect to win every game, that's just the mindset we have developed." 
This was one of the better performances by the Totino-Grace Boys Basketball Team. They scored a season high 98 points, and dominated both sides of the ball during both the first and second halves. The Eagles outscored the Panthers in the first half 42-27, and in the second half 56-37.
Come watch Totino-Grace take on Brooklyn Center tonight at Brooklyn Center High School is their attempt to continue the perfect season!