Thanksgiving Interfaith Prayer Service
Taylor O'Connor, Editor
November 28, 2016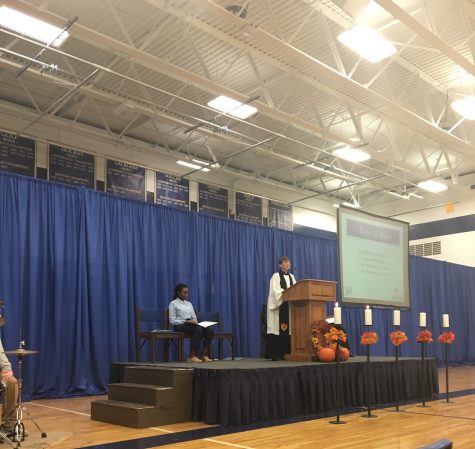 On Tuesday November 22, the Totino-Grace community gathered for an Interfaith prayer service, a spiritual event that gathers people of other religions gather to pray together.
Totino Grace invited Lutheran pastor Matt Flom, representing, the Evangelical Lutheran Church of America, Rabbi David Locketz of the Bet Shalom Congregation, Episcopalian pastor Elaine Clyborne Barber  and our school Chaplain, Father Stiles.
Unfortunately, the prayer leader from Al-Amal school was not present and TG senior Amira Lateef filled in instead.
In preparation for this event, the religion department took time in class to discuss the prayer service and answer any questions students may have, as well as requesting that students have an open mind about this experience. It is unlike anything Totino-Grace has done before but, "If you look at our world today, people are less tolerant of difference and people often use difference as a means of polarizing each other," said religion teacher Ms. Hoey Germann. By having open dialogue, we are more likely to have tolerance toward other religions and have a deeper understanding.
Ms. Hoey Germann hopes this benefits our community and peaks our cultural and spiritual curiosity. The religion department does not know if there will be another prayer service like this one. But for now, TG appreciates the experience this year.
"I thought it was really interesting and cool to see the different people of faith and leaders come to our school to gather as a community and praise God," said Junior Grace Nelson.
"It was cool to hear the different languages, which is something you don't see everyday. Seeing how similar we actually are, even it isn't a Christian religion, the similarities are still there." said Juniors Chloe Wallwork and Emily Draper.
Discussions in religion classes following this event have been positive as well, saying that this was a unique experience for us as a Catholic School and they enjoyed it.
It's unknown at the moment if this will continue into the years to come, but the Interfaith Prayer service was definitely a success. Be sure to thank Ms. McInerny, Ms. Hoey Germann, and the Campus Ministry team for all of their hard work and for bringing us something new to our community.