TG defeats Lakeville North, heading to U.S. Bank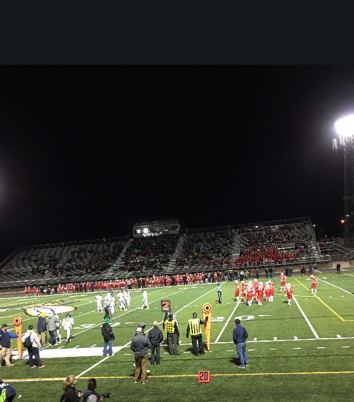 Jacob Elwell, Sports Editor
November 16, 2016
The Totino-Grace football team played against Lakeville North on Thursday night, defeating them 42-14. They have advanced to the semifinals.
The playoffs have fared well for the Eagles, as they have outscored their opponents 138-36 through three games. They kept their momentum going on Thursday. Senior quarterback Kyle Halverson ran for 2 touchdowns and tossed 2 as well. Senior running backs, Gayflor Flomo, Ivan Burlak, and Brady Bertram all scored against Lakeville North. The defense played solid too.
"I'm looking forward to having fun while playing fast and physical football," said Flomo. "To come out on top we must remain hungry and play our game, meaning  offensively we must pound them with the run and beat them with our pass game as well. Our defense must stop the short passes and the runs that they do."
The Eagles face the Blaine Bengals on Thursday, November 17th, at US Bank Stadium for a chance to get to the championship. Totino-Grace defeated Blaine 21-14 during their first meeting at Blaine earlier in the season. However, Blaine has played well during the playoffs, defeating Buffalo, Prior Lake, and Minnetonka. Friday's game should be a fun one to watch, so come out and support your Eagles!