Totino-Grace Cage Matches
Many people gathered at Totino-Grace on Friday, September 24th to spectate and participate in the jiu jitsu and wrestling matches taking place in the authentic mixed martial arts cage. This piqued the interest of many students, as well as provoked questions from others such as, "Why is their an MMA event being held at TG?" Both responses were welcomed, it is not every day that one encounters a jiu jitsu or wrestling match inside an authentic cage!
For Josh Clark the cage is a common sight. His father, James Clark, owns the cage and uses it for their MMA gym, Valhalla Combat Sports, to train and hold shows. He, along with a friend who is a common opponent, bought and constructed it together.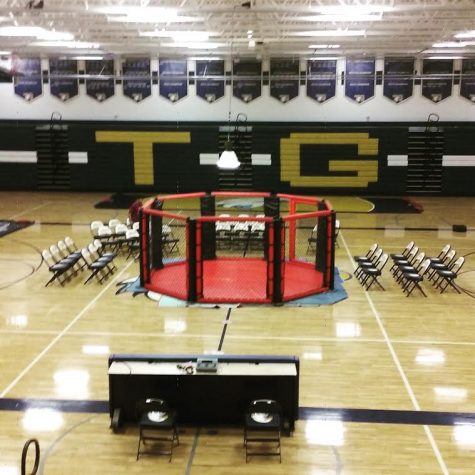 James Clark had the idea to start Valhalla Combat Sports after returning from Ireland from a month of coaching wrestling and learning MMA. He decided to open up the gym in 2009, and began to promote shows a few years later. These shows consisted of: MMA cage fighting, kickboxing, jiu jitsu cage matches and takedown wrestling tournaments. There is a large range of competition with these matches, for all experience levels are welcome to participate as long as they follow the rules. In the beginning there were only about 15 to 20 people who participated in these matches; however, they have gained popularity. "In our last event at TG there were about 60 to 70 matches or more. There was team portion and individual portion who competed," said Josh Clark commenting on the high level of participation within the cage matches. The Clark's also recruit participants through contacting other gyms to survey any potential candidates who want to compete. James Clark will then pair them up with someone of similar skill level and weight category for the match.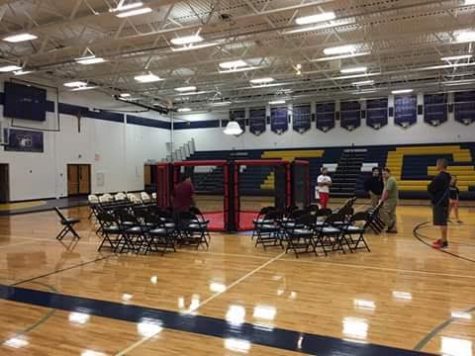 Josh Clark noted his experience inside and outside the ring, "My experience has been great, I was able to win my matches on the shows against very game opponents. When I didn't have a match on the show I would help out in some way like: work the timer, score points, help sell tickets, make flyers, or help sell food at the concessions. It's been great to compete and show my skills." Recollecting an important match in his career he said, "The most interesting match I've encountered personally was a jiu jitsu match going against a guy who was in his 20's. He had some strength because of his age but I was more technical in the match and won 8 – 2." Giving some insight to the experience levels which participate in these shows, Josh said, "The most interesting match I've watched on the show was against two high level college wrestlers who have placed in or won the NCAA division 1 or 2 go against each other in a jiu jitsu match, which is similar but also very different to a straight up wrestling match. The first few minutes were scoreless scrambles because of how experienced they were, but the the Division 1 wrestler ended up winning by a takedown that took a while to set up."
The shows usually occur every couple of months throughout the year. The next show will be at Valhalla Combat Sports on November 23rd. This will consist of jiu jitsu matches and wrestling takedown matches for anyone interested in competing. Doors open up at 6 p.m. for seating and the matches begin around 7pm. Come see some exciting matches for yourself! Their next and final show will be fundraisers for Totino-Grace and the wrestling team held at the gym. Valhalla Combat Sports is located in Fridley, MN 5-10 minutes away from Totino-Grace.