ENN Live is Back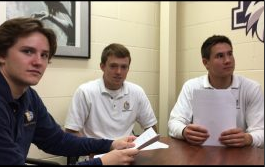 Mark O'Donnell, Contributor
October 19, 2016
This October, the journalism class is bringing back ENN Live, previously run by Jake Pinc, Matthew Gullickson and Kyle Peterson. We thank them for starting up the ENN Live last year, and now it is our job to keep the tradition alive. This year, Joe Pinc, Mark O'Donnell, and Leo Lewis will be running Eagle News Network Live. 
We will be giving quick, in-depth weather coverage for the upcoming week. Joe Pinc will be giving the weather report  and using techniques that other weather reporters don't use, making our show very unique.
We want to let you know what is going around in the TG community and what's happening in sports, clubs, world news and other events.You will see a variety of outfits and themes coming from our ENN staff.
Every Tuesday check https://eaglenewsnetwork.org for our weekly video.