Get To Know Your Campus Ministry: Mr. Million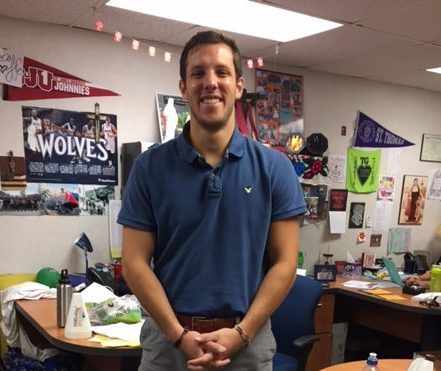 Mr. Million has only been working at TG since January of 2014, but has been a great leader for our school!
Mr. Million in fact went to TG from 2005-2009 and his favorite memory as a student was being a senior in our school's homecoming pepfest. "Our senior year theme was senior citizens and the whole grade was dressed up as old people and just about everyone in the grade had gray hair and wigs. My buddy in the basketball contest shot with granny shots but still won by a lot!"
Most importantly though, Mr. Million is apart of the campus ministry staff along with Tracy Bennington, Andrew Blake, and Clarey McInerny. His specific role in the office is to oversee the TG Lasallian Youth Programming, including service projects and tutoring. He is also in charge of special fundraising events that Totino-Grace has had for nonprofit organizations (such as Special Olympics Basketball Tournament, PowderBuff Volleyball Tournament for Common Hope, or Tackle Cancer). Plus he works with the Student Ministry team to plan the morning chapels on Wednesdays and Thursdays. He also leads mission trips with Mrs. Bennington and retreats as well.
Furthermore, Mr. Million elaborated on how crucial his occupation means to a Catholic high school. "I think it's our job to give our students different opportunities to express their faith. As campus ministers we want to meet our students wherever they are at with their faith life. Some people here (TG) have been going to Catholic schools their whole lives, and then we have other students who have no clue about Catholicism and have no faith life whatsoever. With those students we try to introduce them to their faith journey and to continue the steady path our experienced students of the religion forward. "Know God, know God loves them, and to help them live like Christ are our 3 main themes we want our students to know."
"
Know God, know God loves them, and to help them live like Christ are our 3 main themes we want our students to know."
— Mr. Million
Since Totino-Grace has some extremely fun service projects during the week, Mr. Million shed some light onto his personal preferences. "If I'm feeling competitive I love going to Feed My Starving Children because I love packing meals. Sharing and Caring Hands is also  pretty special to interact with the people that you're serving and to hear their stories and to just send them a smile or a simple hey how are you doing is what this charity is all about. That's easily the best service project and experience out there during the week."
Don't forget about mission trips though because Mr. Million has had a blast on them as well! "My favorite trip is probably the Tucson mission trip that is our immigration experience. You learn about both sides of the issue on immigration in the United States and get some cool information on the topic that you probably do not know about our newcomers".
Mr. Million is definitely an interesting guy, stop by the campus ministry office for his opinions about the Timberwolves (and his slam squad job), being a DJ, mission trips and just about anything! But most importantly faith. Catch him on Thursday night's at B-Dubs with his pals watching some sports and chowing down on some poultry!
For more information on mission trips, service projects, and etc. You can find them on the ministry page on the Totino-Grace website.
http://www.totinograce.org/Ministry