#1 Ranked Totino-Grace Eagles Face Osseo Friday Night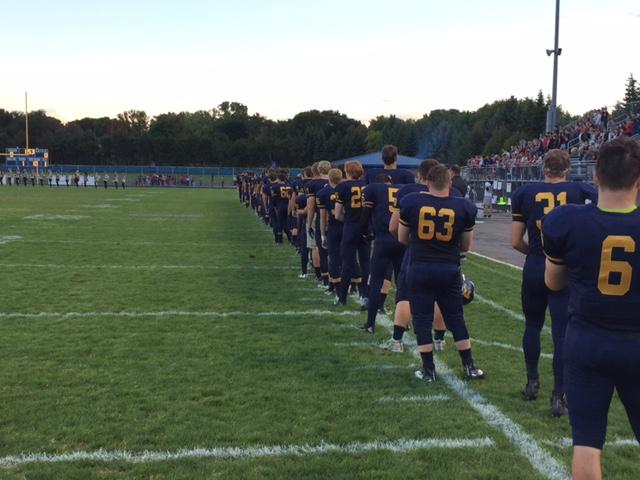 Nick Anderson, Contributor
September 22, 2016
The 3-0 Totino-Grace Eagles look to take down the defending 6A Champions Osseo at 7 p.m. this Friday at Osseo High School.
Totino-Grace hopes to continue their win streak under captain linebacker Charlie Waters. Charlie said, "On offense we need to run the ball and not turn the ball over. On defense we need to stop the run, contain their athletes and force some turnovers."
The Eagles have started strong defeating Eden Prairie Anoka, and Andover. Osseo comes into the game 1-2 after beating Andover week 3 and losing to Maple Grove and Anoka.
The Eagles have been ranked number 1 in Minnesota and Class 6A, according to the Star Tribune. Osseo is currently unranked according to Max Preps. Despite the rankings, Charlie said, "I have seen the rankings and know that we're number one, but they don't give you extra points on the scoreboard for being ranked number one in the state. The rankings don't matter, everyone makes it to the playoffs and anyone can beat anyone."
Senior rushing leader Ivan Burlak is currently averaging 104 yards per game, according the the MN Football Hub. He will be pairing up with senior quarterback Kyle Halverson who has passed for 244 yards on the year, according to MN Football Hub.
Will Totino-Grace continue their undefeated season? Will Osseo repeat last year's semifinal game? Make sure you are there on Friday at 7 p.m. to support your Eagles!
Correction: An earlier version of this article said Osseo is 1-3 and lost to Minnetonka.  Osseo has not played Minnetonka and is 1-2.