Eagles Battle Blaine to Big Victory!
     On Tuesday night, the Totino-Grace boys basketball team beat Blaine 60-51 in a close game at home.
     From the tipoff to the last second of the game, both teams fought in this back-and-forth battle. Blaine began the game by putting up two points on the board, followed by Lewis Kidd matching those two points by spinning and banking a shot.
     The Eagles fought through the first half, keeping the score tied with Blaine through traded points. Finally, junior Nathan Kavolak took control, hitting multiple three pointers and contributing with a few layups. The Eagles went into halftime with a 28-24 lead, which Kavolak commented was, "nice to have going into the second half."
     Totino-Grace started out hot, shifting the momentum in their favor as they scored the first five points. The Eagles soared, contributing both defensively in stops and offensively in points. As they were beginning to mount a lead, players for Totino-Grace got into foul trouble, shifting the momentum towards the Bengals. Blaine senior Benjamin Scherer put up 16 points under the rim, keeping his team in the game. The Bengals put together a string of plays, causing the Eagles to play rushed. Blaine went up by one, but Kavolak responded by manufacturing points to energize his team. The team responded, taking the game back in control with a six point lead. Blaine became frantic, throwing up threes praying that they would drop. Kavolak struck the final blow to the Bengals, putting in a layup under pressure resulting in a foul and a free throw. The Eagles finished the game with lock-down defense, resulting in a final score of 60-51.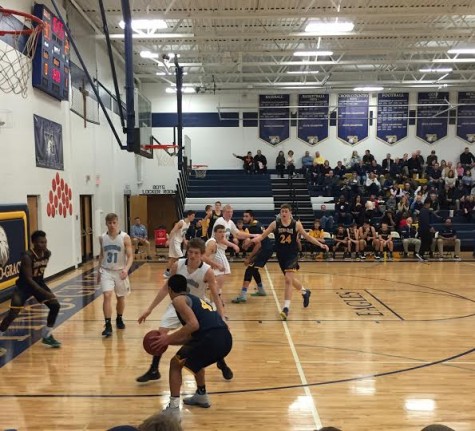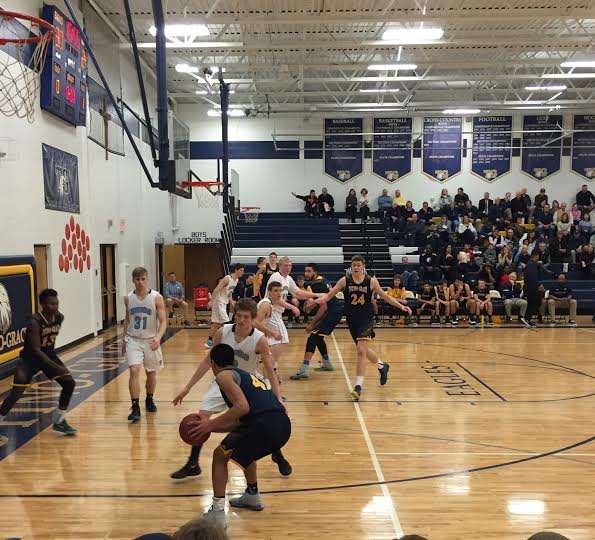 Kavolak led the team scoring 22 points, followed by sophomore Charlie Jacob with 13 points, and junior Rocky Kreuser with 9 points. When asking what the team's mentality was going into the game, Kavolak responded that their goal was to "just get the win." In preparation for the game, he said that they worked on the "little things like defensive practice and rebounding." Totino-Grace coach Robert Ware said via email interview that Kavolak, "Is really improving on his man to man defense and adding more to his game." In terms of the team, Coach Ware feels as if they "play a style of basketball that allows his guys to all contribute and score points."
     The Eagles will celebrate the big win, putting their win-loss record at 11-14; however, they will have to shift their mentality towards their next game on February 19th versus 9-16 Centennial.